Queens Grill Mary 2 - Qm2
Deck 2
Deck 2 features the lower levels of Illuminations, Royal Court Theatre, the Grand Lobby, and the Britannia Restaurant, as well as Cunard Connexions, the video arcade, Empire Casino, the tour office, the purser's office, and Golden Lion.

Deck Plans Here
Public Areas
Britannia Restaurant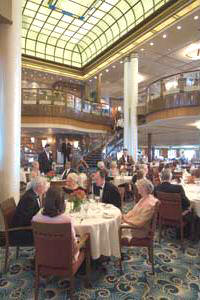 An extraordinary sweeping stairway leads to a grand two-tiered salon, complete with columns. Dine on spectacular cuisine, complemented by a perfect vintage from the largest wine cellar afloat.
Cunard Connexions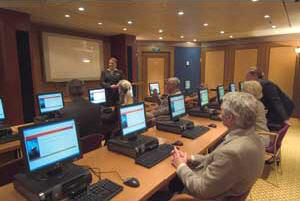 The University of Oxford presents the Oxford Discovery programme. Enhance your intellect as you participate in seminars and lectures regarding a personal interest. Discussions vary from global economics to history of jazz, science fiction, the works of Shakespeare, and more.

Empire Casino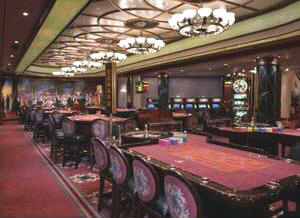 Lady Luck will entice you with all her charms. The Empire Casino offers favorite table games such as roulette, blackjack, and more.
Golden Lion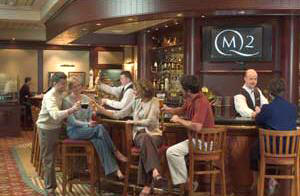 Savor the taste of a fine lager in this British-style pub. Witness televised sporting events over a nice cold pint.

Illuminations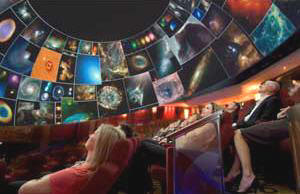 Explore the wonders of the universe at this full-scale planetarium or participate in a course on celestial navigation. Illuminations is also used as a grand cinema, 500-seat lecture hall, and broadcasting studio.
Royal Court Theatre
Performers from RADA, London's famous Royal Academy of Dramatic Art, will entertain you with unforgettable musical productions. Tiered seating, state-of-the-art acoustics, and magnificent lighting and sound systems enhance the performances.