Public Areas
Britannia Restaurant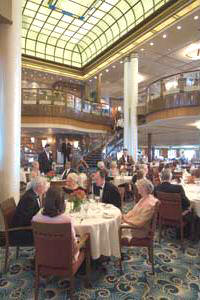 An extraordinary sweeping stairway leads to a grand two-tiered salon, complete with columns. Dine on spectacular cuisine, complemented by a perfect vintage from the largest wine cellar afloat.
Chart Room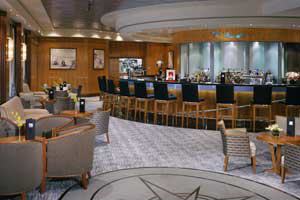 A sweet serenade performed by a cabaret singer offers the perfect ambience for a pre-dinner cocktail.
G32 Nightclub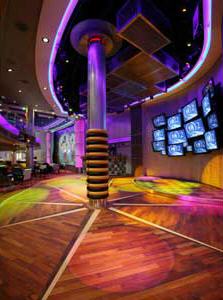 Dance the night away in this dazzling nightclub.
Illuminations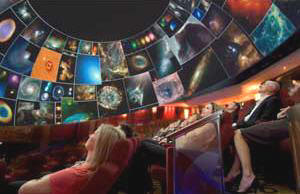 Explore the wonders of the universe at this full-scale planetarium or participate in a course on celestial navigation. Illuminations is also used as a grand cinema, 500-seat lecture hall, and broadcasting studio.

Queens Room

The crystal chandelier serves as a sparkling centerpiece in the largest ballroom at sea. Romance fills the air as guests float across the dance floor.

Royal Court Theatre

Performers from RADA, London's famous Royal Academy of Dramatic Art, will entertain you with unforgettable musical productions. Tiered seating, state-of-the-art acoustics, and magnificent lighting and sound systems enhance the performances.

Sir Samuel's

Relax and enjoy the selection of fine wines at Sir Samuel's.

Veuve Clicquot Champagne Bar

Toast your Cunard with Waterford champagne flutes, accompanied by caviar and foie gras.