Public Areas

Canyon Ranch Spa Club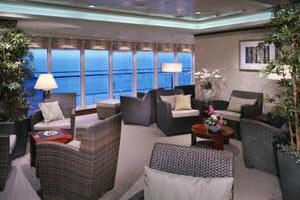 Fifty Canyon Ranch health and wellness experts are ready to pamper you in this deluxe facility. The royal treatment awaits in the therapy pool with waterfall, herbal and Finnish saunas, reflexology basins, and aromatic steam room. Enjoy a mango body scrub or a Rasul ceremony, a cleansing ritual for lovers. Classes about stress relief, diet, healthy aging, and more round out the options.

Gym

Featuring over 50 pieces of cardio equipment and a weight room, the gymnasium is a great place to stay in shape.

Kings Court

The Kings Court is perfect for a casual breakfast or lunch. At night, the space is divided into four distinctive eateries. Choose from Asian cuisine in Lotus, Italian in La Piazza, British-style carved meats and poultry in the Carvery, and specially prepared entrees at the Chef's Galley.
Princess Grill
The Princess Grill is exclusively for guests reserved in category P1 & P2 junior suites. Tuna carpaccio and lingonberry torte are just some of the culinary choices offered at this award-winning restaurant.
Queens Grill
The Queens Grill is exclusively for guests in Q-category suites. Indulge in lobster, caviar, and champagne in a grill described as the "premier dining experience in cruising" by Fieldings and Berlitz.
Queens Grill Lounge

Retire to this delightful lounge for an after-dinner drink.

Winter Garden
Prepare for a traditional afternoon British tea with white-glove service. Enjoy scones, clotted cream, fresh pastries, or finger sandwiches as you sip freshly brewed tea.