Dining: An Inspired Selection
Inventive variety is the very hallmark of the flavors, sensations and cuisines in each of Queens Grill Victoria's main restaurants. The onboard culinary adventure extends beyond the elegant menus, allowing you freedom to act on the impulses of your taste buds and seek out options ranging from the sublimely creative to the superbly casual. Remember, too, room service is on call at any time of the day or night from your suite or stateroom. Whatever the moment, excellence and choice always combine memorably on Queens Grill Victoria.
---
Queens Grill | Princess Grill | Britannia Restaurant | Todd English | Lido | Golden Lion
The Courtyard | The Grills Lounge
---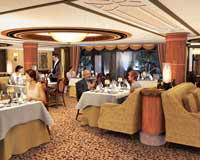 Queens Grill
For guests residing in Queens Grill accommodations, this is the ultimate expression of understated dining excellence, where your waiter guides you through the delicious possibilities and your chef endeavors to fulfill any request. Á la carte menus encourage the most sublime culinary adventures, where service is ever flawless and the ambience always perfectly refined.
---
Princess Grill
After a pre-dinner tipple in the exclusive Grills Lounge, P category guests prepare for the main event in the intimate Princess Grill on 11 Deck. Over a single leisurely seating, delicate flavors, textures and ingredients combine superbly on an imaginative Á la carte menu, complemented by fines wines from the four corners of the globe.
---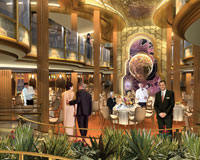 Britannia Restaurant
When you see the world from the comfort of the Britannia Staterooms, you'll revel in the splendid nightly occasion of dining in the magnificent two-tiered Britannia Restaurant on Decks 2 and 3. Your table awaits, where the attentive service is perfectly unobtrusive and the creative artwork provides an eye-catching centerpiece. Choose from early or late dining.
---
Dining Alternatives:
You can also enjoy your pick of these fabulous alternative dining options:
---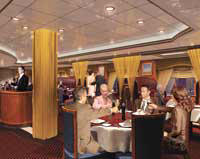 Todd English Restaurant
Reservations at this stylish restaurant are your ticket to the fabulously intense flavors and inspiration drawn from around the Mediterranean. Each course continues your sumptuous odyssey to this region rich in culinary flair.
---
Lido
Offering a more casual, bright and airy ambience by day and night, this venue, with seating for 450 guests, provides the perfect setting for a more relaxed dining experience.
---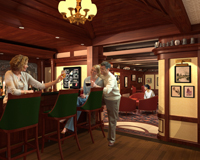 Golden Lion
Let the exploration continue in the Golden Lion through an impressive selection of beers and ciders. Once you've whet your appetite, you can satisfy it in cozy traditional surroundings from the hearty gastro pub menu.
---
And There's Even More Exclusivity for Grill Guests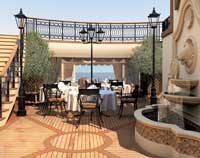 The Courtyard
Grill guests may dine or sip civilized afternoon tea in this exclusively reserved area as Queens Grill Victoria enhances Cunard's esteemed Grill Experience al fresco.
---
The Grills Lounge
Accessed by private elevator and opening onto the Grills Terrace, this peaceful haven of calm provides the perfect setting for pre-dinner drinks, canapés and champagne.
---
The Grills Upper Terrace
Queens and Princess Grill guests can escape to this scenic private spot to soak up the rays on comfortable sun loungers.